Erick Laine was a constant figure in the Olean community, always at the heart of so much impacting the region, whether it be through business, philanthropy, volunteering or just being a friendly figure.
In the same way, the Erick Laine Outdoor Center, a $5 million capital project at the Olean Family YMCA, will be at the heart of the community through all four seasons and for many years.
Phase I of the outdoor center will include a multi-use airnasium, which can be utilized year-round for sports, group exercise, theater productions, family birthday parties, etc; the Cutco splash park, which will convert into a winter play park for ice skating, curling and other outdoor winter activities; a welcome center and bath house; fire pits for gathering and socializing; then in Phase II a modern playground will be added for children to enjoy in spring 2024.
The outdoor center will be open to the community year-round and will not require a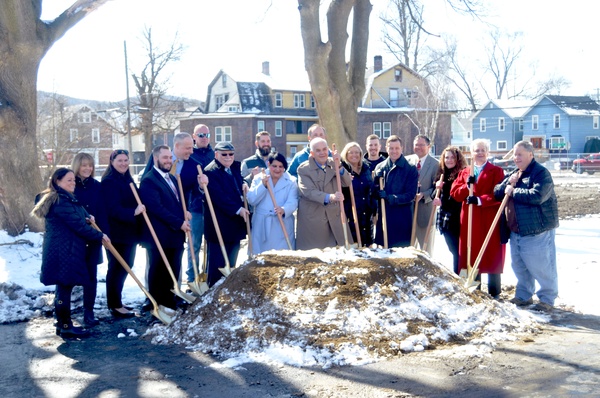 YMCA membership for families to enjoy.
Because of the center's incredible scope and it memorializing such an influential person in the community, the CRCF board of directors approved a $10,000 matching grant to the project in 2022 during Cattaraugus Gives. All told, the grant helped the YMCA raise $20,400 for the project during Cattaraugus Gives.
"Olean truly would not be what it is today if it were not for the forward thinking and giving spirit of Erick Laine," said CRCF Board President Lucy Benson. "To see his legacy be honored by such a significant project really inspired our board to lend its support with this grant. "
"Erick was a lover of this community, and he was a lover of the outdoors, actively enjoying sports and activities in all four seasons like tennis, skiing and sailing," continued Benson. "We can just imagine what it would mean to him to see all of the families enjoying such a special space throughout the year. "
The grant is also a recognition of Laine's generous giving to CRCF over the years, with his beloved wife Marianne Laine. Erick and Marianne, with their son Peter Laine, were honored as the Friends of the Foundation in 2013.
In 2014, Erick and Marianne together established the Olean Parks Beautification Fund, to support landscaping and beautification work in Olean parks, especially Oak Hill Park. Through that fund, Erick and Marianne supported a $160,000+ restoration of the 4th Street entrance to the park.
Through his estate, Erick established the Erick Laine Lift Up Endowment Fund, which supported $15,000 in renovations to St. Bonaventure University's Innovation Center, now known as "The Hub," and which will continue to provide grants that represent and honor Erick's values and his love for the Olean community by supporting increased educational opportunities for area residents and a vibrant Olean and Cattaraugus County business community.
Likewise, the Laine Outdoor Center capital project was inspired by a $650,000 bequest from Laine.
"Through that gift from the Laine estate, a group of YMCA volunteers and staff was formed to ask the question; how can we honor Erick's legacy and respond to the needs of our community at the same time?" explained Jeff Townsend, YMCA CEO. That dedicated group started exploring activities that Erick Laine loved and paired them with a recent community needs assessment that the Y had conducted; which expressed the need for secured and safe outdoor play spaces and more outdoor winter activities.
Within those discussions and planning sessions, the concept for the Erick Laine Outdoor Center came to life.
"Erick gave so generously to this community during his life and through his estate, that it is only right to do our part in honoring that generosity," added Benson.
Construction on the Erick Laine Outdoor Center began recently after a March 2 groundbreaking ceremony and will continue through the spring and summer months, including the building of the airnasium, splash pad, fire pits and bathhouse facilities. The second phase will include the completion of the playground, with the opening set for spring 2024.
For many years to come, the Laine Outdoor Center will demonstrate how a philanthropic heart can impact the heart of an entire community.
This story is from the 2022 CRCF Annual Report "Heart of Philanthropy."