The Twin Tiers Disc Golf Association [TTDGA], inspired by the idea and efforts of group member Dave Haynes, is gearing up fundraising efforts for a 9-hole disc golf course that is designed with youth and novice players in mind. The course, being installed near Franchot's Children's Memorial Garden this summer, will also extend the garden's mission by including trees and landscape stones that memorialize children in the layout.
"Remembering children that have passed away while providing something positive for today's youth seems fitting" Mr. Haynes said.
The youth course – the first of its kind in Cattaraugus County – hopes to feature two tees for each hole. One tee location will make each hole more challenging and is designed for youth between the ages of nine and thirteen; while a second tee location will make the holes more manageable for kids between the ages of four and eight.
TTDGA is a volunteer-based nonprofit group responsible for the installation of the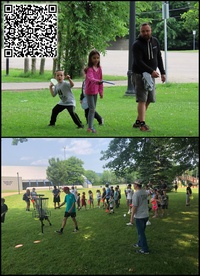 county's first full-sized 18-hole disc golf course last year in Olean's Gargoyle Park. A new youth-oriented course ties directly into their stated mission of growing disc golf in the Twin Tiers with a focus on youth development, healthy living and social responsibility.
"This course will be easily accessible on bike or by foot to so many of Olean's residents. The course is free to play and – with a disc that costs between $10 and $15 – can easily be played by people of any ability level," said TTDGA President Rich Longer. "Only a toss across the border, Bradford is bringing disc golf to residents at Callahan Park and our hope is that these initiatives provide an opportunity for outdoor recreation and socialization for families and generations to come, while introducing Twin Tiers Youth to a sport they can grow to love for a lifetime."
The Council approved the Franchot proposal in November, pledging to match donor fundraising for the project. "This would be great for families to walk over with their kids" said Council President John Crawford. "One thing we want to see is if our tax money goes into taking care of a park, for that park to get used. This group has put blood, sweat and tears into this, and they have done a great job."
Donations can be made to the Public Disc Golf Course Fund at CRCF, 301 N. Union St., Suite 203, Olean, NY 14760 or online at www.cattfoundation.org. For hole sponsorship and children's memorial inquiries, contact [email protected] The Cattaraugus Region Community Foundation is the area's supportive, responsive and trusted community foundation.