Six nonprofit agencies recently received grants from the Cattaraugus Region Community Foundation's Community Fund, together totaling $8,462, to support projects and initiatives that support the changing needs of Cattaraugus County residents.
The Western New York Land Conservancy received a $2,000 grant to support the Saving the Allegany Wildlands land project.
The grant was made in support of a $879,000 overall fundraising goal to allow the agency to purchase 200-acres of forest land in South Valley, only a few hundred feet from the Allegheny Reservoir on the opposite shore from Allegany State Park in Cattaraugus County. The land is home to some of the few surviving America chestnut trees in the region.
According to Jajean Rose-Burney, Western New York Land Conservancy deputy executive director, the agency recently met its fundraising goal and hopes to purchase the land by mid-2022. The land conservancy hopes to then open the protected land as a nature preserve open to outdoor recreation by the summer of 2023.
Burney added that the land purchase is part of a greater plan to create a connected network of preserved land in the Northeastern United States, important to the environmental health of the region as a whole.
"The Allegany Wildlands is a hugely significant link in our planned Western New York Wildway. The Wildway is a proposal to protect and connect our region's last remaining large forests," she said. "This will allow plants and animals to roam across the landscape as they once did, and will allow them to move around and adapt to a changing climate."
The proposed wildway will connect corridors of protected land that stretch from northern Pennsylvania to the Great Lakes, through the Finger Lakes, the Adirondacks and beyond.
The YMCA of the Twin Tiers received $1,800 to provide 360 free day passes so that families may utilize the PlayZone in Limestone.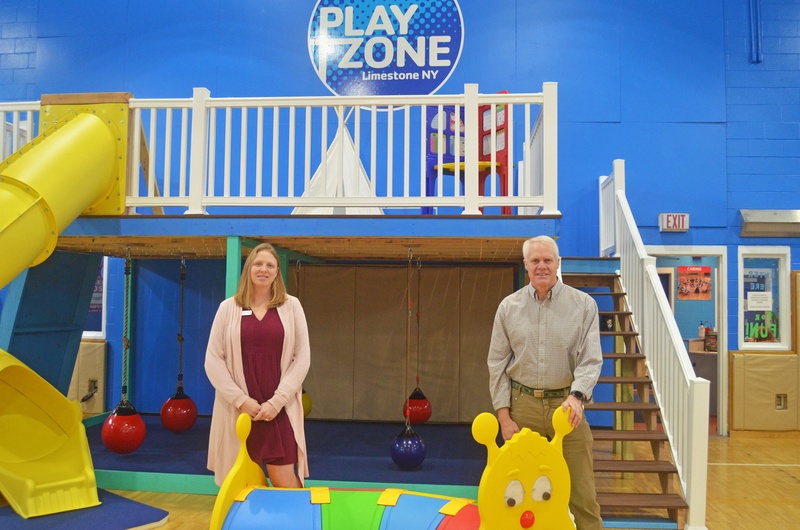 The recently-opened PlayZone provides area youth and families with opportunities to play and be active together. The PlayZone provides areas for children to run jump, climb, crawl and have free play, and also provides a wellness center for individuals 12 and older, allowing parents to exercise while their children play.
The PlayZone fills an important need for Cattaraugus County families. The State of Play Western New York Analysis and Recommendations study showed that less than half of county residents have adequate access to physical activity locations.
"Being able to come [to the PlayZone] for free play and being able to be physically active is huge," said Christie Thornon, YMCA of the Twin Tiers Executive Director. "The people that come are returning constantly because they're finding that this is that place for kids to climb, build and play that we just did not have here prior."
Housing Options Made Easy received $1,600 for Recover Options Made Easy (ROME) curriculum materials for group sessions for youth dealing with mental health issues.
Housing Options Made Easy Interim Executive Director Shannon Higbee said that the program includes two 10-week group sessions in 2022 to help youth participants build self-esteem, teambuilding skills, awareness, thankfulness, positive thinking and perseverance.
Rural Revitilization Corporation received $1,500 to provide Safe Homes for Kids kits, including educational materials for parents as well as home safety items such as fire extinguishers, smoke and carbon monoxide alarms, bath thermometers, window locks, latches to secure furniture and cabinets.
The Safe Home for Kids program is an ongoing collaboration with the Parent Education Program (PEP) that aims to keep children safe at home by reducing the risk of choking, suffocation, poisoning, falls, burns and other potential injuries. According the CDC, these are the leading causes of death in a home, where one-third of childhood deaths occur.
The grant help provide kits to between 25 and 50 families, said Rural Revitalization Corporation Executive Director April Ramadhan.
FeedMore WNY received $1,000 to provide for food purchases at 34 FeedMore WNY-network food pantries in Cattaraugus County.
According to Elizabeth Whiting, bid management specialist at FeedMore WNY, enough food for 1.5 million meals was distributed in Cattaraugus County, representing a 24% increase from the previous year. Feeding America and Meals on Wheels America expect that the need for food assistance to remain at increased levels for at least another five to seven years.
The Gargoyle Park Public Disc Golf Course Fund received $1,000 for materials to complete the construction of the 18-hole. The grant will help offset expenses for the installation of two sets of tee pads at the Gargoyle Park Public Disc Golf Course, the first-ever public disc golf course in Cattaraugus County.
According to the Twin Tiers Disc Golf Association's Rich Longer, the completed installation of the tee pads was essential for the course to host New York State's first-ever Collegiate Disc Golf Regional Qualifier, which is scheduled for March 12, 2022.
Longer expects college teams from across the region to travel to Olean to compete for two bids to the Collegiate Disc Golf National Championships.
Donations can be made to the Community Fund at CRCF, 301 North Union St., Olean, NY 14760 or online at cattfoundation.org
The Cattaraugus Region Community Foundation is the area's supportive, responsive and trusted community foundation. Established in 1994, CRCF is growing good by connecting donors to the causes they care about most in the region. Grants from the foundation support many areas, including education, scholarships, health care, the arts, community development, human service, and youth development. To learn more, call (716) 301-CRCF (2723), email [email protected], or visit online at www.cattfoundation.org. CRCF is also on Facebook (facebook.com/cattfoundation) and Twitter (@CattFoundation).