When skateboarding legend Tony Hawk donated his blood to be painted into 100 skateboards, he probably did not think it would play a major role in a group of Ellicottville skatepark advocates meeting a match offered by The Skatepark Project, a nonprofit that Hawk founded himself.
But that is exactly what happened when Ellicottville resident John Nelson, a self-professed lover of Liquid Death (Tony Hawk blood board builder) products, "sold" his one-of-100 blood boards to a YouTuber and social media influencer who also happens to be a skateboarding enthusiast, better known as Donut Operator, for $10,000.
Nelson, CEO of LFM Management, works with a roster of social media influencers and content creators and had worked with Donut Operator, whose YouTube channel has 3.17 million subscribers, on a number of projects before he mentioned the blood board he had purchased.
Donut Operator, who also owns and operates Five Oh Skate Shop in Fort Mill, South Carolina, found himself very interested in purchasing the board from Nelson.
"We went to VidSummit, which is this big YouTube networking convention, and before that he asked what it was going to take to get my blood board," said Nelson.
At the time, Nelson had also been speaking with members of Sk8EVL, a group of advocates leading the effort to build a permanent skatepark in the village of Ellicottville, and knew that they were edging closer to raising enough funding to secure a $250,000 matching grant from The Skatepark Project and Ralph C. Wilson Jr. Foundation.
"I told him that I needed $10,000 for the board, but that I needed him to send it [to the Ellicottville Skatepark Fund at the Cattaraugus Region Community Foundation]," said Nelson. "I said that they were so close and had raised $240,000 of their $250,000 goal, so here is your chance to help this project get over the finish line."
And so, from the VidSummit conference in California, Donut Operator's skateshop, Five Oh, made a $10,000 gift to the Ellicottville Skatepark Fund.
"He went to make the gift that night, and his bank was flagging it because we were in Los Angeles – he lives in Texas. His bank was like, 'why are you sending $10,000 to some charity in Cattaraugus County?" Nelson said with a laugh. "Finally in the morning he was able to send the money, and I told him that I was so inspired by what he did, that my company LFM Management donated another $5,000.
"I am excited that he could be a part of this, and I'm excited that we [LFM Management] could be a part of this," Nelson added.
At the time, the $10,000 donation was the most ever paid for a Tony Hawk blood board. The transaction even got the attention of Liquid Death on Twitter.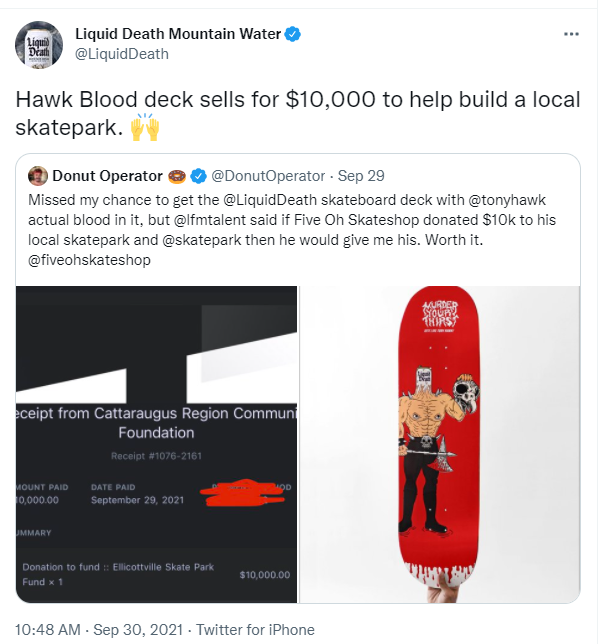 But that gift was not the only major gift that helped the skatepark project cross the finish line.
Around the same time that the Ellicottville Skatepark Fund was working to close the final gap in their fundraising efforts, Chris Perks, a Sk8EVL advocate, met John Hoskins, a HoliMont member, while the two were mountain biking on the new downhill trails at HoliMont.
"He [Chris Perks] discussed with me the new skatepark going up in Ellicottville and I loved the idea," said Hoskins. "I grew up skating in the 1980s and we never had anything like a skatepark. We would street skate or build our own wood ramps."
Those conversations transpired into Hoskins making a $10,000 gift through his business, Sheldon Precision, a Connecticut-based company.
"My son enjoys skating today and we spend time in Ellicottville during the summer months, Hoskins added. "My goal is to help bring more summer activities to Ellicottville and the mountain bike trails at HoliMont and skatepark are huge additions!"
For Hoskins the donation is about more than building a skatepark, it is about making Ellicottville a year-round destination.
"Ellicottville already has all the assets needed to create a world class summer destination," he said. Thousdands of [part-time] families own condos which sit idle in the summer. If we can turn Ellicottville into a year round destination for them, it will be phenomenal for the economy. Also, it's fun to help develop a better future for our kids in Ellicottville!"
Even though the Ellicottville Skatepark Fund has met its original fundraising goal of $250,000, the group plans to continue its fundraising until the project breaks ground next spring, according to Perks.
Now the skatepark has a goal that exceeds their original expectations of meeting the match offered by The Skatepark Project. That goal is to make the skatepark the best it can possibly be for the Ellicottville and surrounding communities.
And with the increased cost of building materials and the need for ongoing maintenance of the park once completed, any additional funds raised will play just as important a role in the project.
The next chance to support the Ellicottville Skatepark will be Saturday, Nov. 6, at the Skate-of-the-Art live and silent skate deck art auction, which will be held at Fattey Beer Co. in Ellicottville. Check the Sk8EVL Facebook and Instagram pages (@sk8evl) for more information.
The Ellicottville Skatepark Fund will also be participating in and raising funds during Cattaraugus Gives on Tuesday, Nov. 30, at cattaraugusgives.org.
The Ellicottville Skatepark, to be located inside Ellicottville's Village Park, will be available to the public at no charge upon completion. Construction is expected to begin next spring. Learn more about the Ellicottville Skatepark project and how you can contribute at sk8evl.com.
Established in 1994, the Cattaraugus Region Community Foundation is growing good by connecting donors to the causes they care about most in the region. Grants from the foundation support many areas, including education, scholarships, health care, the arts, community development, human service, and youth development. To learn more, call (716) 301-CRCF (2723), email [email protected], or visit online at www.cattfoundation.org. CRCF is also on Facebook (facebook.com/cattfoundation) and Twitter (@CattFoundation).