In just 24 hours Cattaraugus Gives raised $110,996 for nonprofits in the Cattaraugus region, tripling the final results of the 2018 program.
The Cattaraugus Region Community Foundation led efforts to organize local nonprofits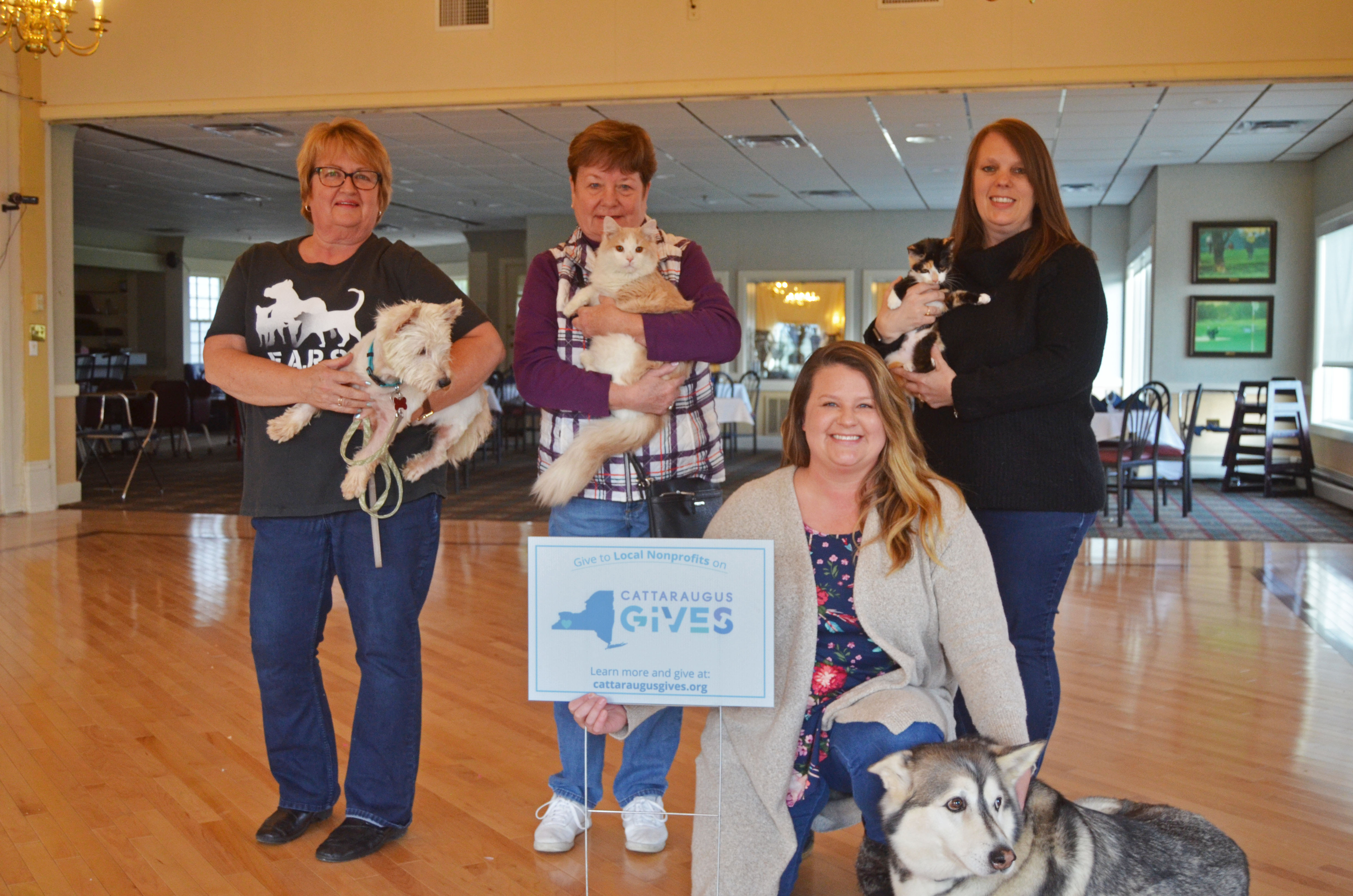 to raise funds in friendly competition and provided the online giving platform as well as support, training and some of the prize money.
Held on Giving Tuesday, Dec. 3, 70 participating nonprofits together raised $110,996, representing donations from 841 gracious donors throughout the community, including $12,000 in sponsorships from local businesses, individuals and CRCF.
"Yesterday was a phenomenal day - like Christmas coming early," said CRCF Executive Director Karen Niemic Buchheit of the program's success. "The community support was nothing short of amazing. There are so many thanks to express - especially to all the nonprofits who came together to rally supporters and to our prize sponsors who provided such great incentives."
The following 20 organizations won prizes based on their participation and the number of donors giving during specific hours or overall:
Cutco Corporation Overall Most Donors Top Prize - $2,000

Olean City School District Foundation

CRCF Overall Most Donors Prize (2nd Place) - $1,000

Empire Animal Rescue Society

Eager Beaver Prize (sponsored by CRCF) - $500

Pfeiffer Nature Center & Foundation Inc.

Early Bird from Bluebird Square Golden Ticket Prize (sponsored by Park Centre Development Inc.) - $250
Breakfast Hour Golden Ticket Prize (sponsored by Hedley Brook Insurance) - $250
Community Bank's Bank is Open Prize - $500

Olean City School District Foundation

CRCF's 25 Year of Growing Good Anniversary Hour Prize - $500
Buffamante Whipple Buttafaro P.C. Morning Golden Ticket Prize - $250

Dr. Lyle F. Renodin Foundation

Lunch Meeting Hour Prize (sponsored by the Cornell-Pleakis Group at Morgan Stanley) - $500
Both, Branch & Hendrix Noon Whistle Prize - $500

Marjorie and Robert Schaumleffel Rotary Scholarship

Early Afternoon Golden Ticket Prize (sponsored by Dolores Anstaett) - $250
CRCF's The Responsive Hour Prize - $500

Southern Tier Health Care System

Howard Hanna Realty Homeward Bound Golden Ticket Prize - $250

Citizens Advocating Memorial Preservation (CAMP)

Olean Area Federal Credit Union After Work Drive-Through Hour Prize - $500

SPCA of Cattaraugus County

Greater Olean Area Chamber of Commerce's Golden Ticket Prize - $250
Both, Branch & Hendrix Prime Time Prize - $500

SPCA of Cattaraugus County

Seneca Resorts & Casinos High Roller Hour Prize - $500
CRCF's Trusted Donor Hour Golden Ticket Prize - $250

HomeCare & Hospice Foundation

It's Getting Late Golden Ticket Prize (sponsored by James Bardenett) - $250

African American Center for Cultural Development

CRCF's Big Donor Prize for the most overall donors of $100 or more – First place $1,000, Second Place $500

First place – YMCA of the Twin Tiers
Second place – Empire Animal Rescue Society

CRCF Pre-Day Drawing Prizes - $250 each

Joyful Rescues
Veggie Wheels
In addition three nonprofits were recognized for their outstanding social media promotions for Cattaraugus Gives and their own organization.
CRCF's Social Media Champion Prize - $250, honorable mention $100

Winner – Empire Animal Rescue Society
Honorable Mention – Lounsbury Adaptive Ski Program
Honorable Mention – Olean Theatre Workshop
A full list of prizes and winners, including descriptions is available at cattaraugusgives.org/prizes.
A number of organizations staged particularly notable campaigns during Cattaraugus Gives, according to Kirk Windus, CRCF communications and fund development, who provided training and support for participating nonprofits.
The YMCA of the Twin Tiers garnered $30,024 to meet their goal of raising funds to provide 100 free memberships to disadvantaged youth in the community. Their total, which was the highest dollar amount of any nonprofit in the competition, included a $15,000 matching gift from a private donor.
The Pink Pumpkin Project raised $22,140 throughout the day. Empire Animal Rescue Society raised $9,460 and the Olean City School District Foundation raised $5,713.
"That list only covers a few of the incredible accomplishments of the participating nonprofits," Buchheit said. "What makes this even more impressive is that three of the organizations that raised the greatest amount of money are entirely volunteer organizations with no paid staff.
"It is hard to begin to put in words the power of injecting over $100,000 into the life of all these nonprofits," Buchheit continued. "The funds will help all of them to continue their missions and provide specific programs and services that enhance the vitality of our region and the lives of our local residents."
Sharon Myers, CRCF marketing and donor development committee chair, put it most succinctly and poetically.
"Almost $111,000 raised for our community nonprofits?" she said, "Now that is Growing Good."
For 25 years, the Cattaraugus Region Community Foundation has been the area's supportive, responsive and trusted community foundation. Established in 1994, CRCF is growing good by connecting donors to the causes they care about most in the region. Grants from the foundation support many areas, including education, scholarships, health care, the arts, community development, human service, and youth development. To learn more, call (716) 301-CRCF (2723), email [email protected], or visit online at www.cattfoundation.org. CRCF is also on Facebook (facebook.com/cattfoundation) and Twitter (@CattFoundation).