The Veggie Wheels program entered its fifth year with a number of changes – new leadership, a new endowment fund, a new collaboration – but one important thing remained the same: the programs mission of supporting a healthier future for the disadvantaged in Cattaraugus County.
In 2019, Veggie Wheels provided approximately 600 community members and children with fresh vegetables, fruit and nutritional education in the communities of Olean, Delevan and Salamanca.
In 2019, Athena Godet-Calogeras, the program's founder and original director,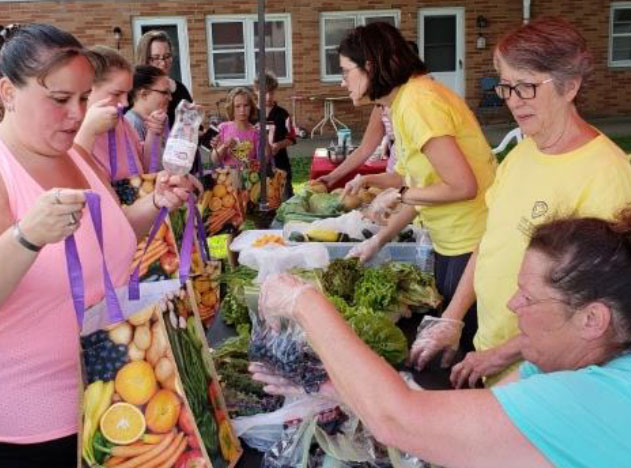 transferred leadership to Heidi E. Reese, a health education assistant at the Cattaraugus County Health Department.
Prior to stepping down, Godet-Calogeras led the effort to establish the Veggie Wheels Fund at the Cattaraugus Region Community Foundation, with the intention of providing project supporters an avenue to make tax-deductible donations to a fund that can grow over time to provide continued support to the program's efforts.
In 2019, the Veggie Wheels Fund made possible a $2,000 grant to pay vendors for fruits and produce that were delivered to program participants.
Five years ago, Veggie Wheels began as a pilot program serving low-income housing facilities with fresh produce in an effort to combat the high rates of diet-related problems like obesity, heart disease and diabetes among the county's more disadvantaged population.
In the years since, the program has begun serving a number of new locations, including Delevan this year, through a collaboration with Women, Infants and Children of Cattaraugus County. In its first year, serving this location, program volunteers provided fresh produce to 77 individuals, a majority of whom were children.
Additionally, Veggie Wheels worked with nutritionists from Eat Smart Western New York to provide program participants with recipes, education and cooking demonstrations. Children also received tools like size plates, water bottles and vegetable platters to promote healthy lifestyle choices.
A number of participants reported that the program encouraged them to begin a healthier diet and to exercise regularly, which led to weight loss. One woman reported losing twenty pounds since the beginning of her involvement with Veggie Wheels, according to Heidi E. Reese.
"The success of Veggie Wheels season 2019 is due to the time, effort, and dedication of the volunteers of the program," said Reese. "Volunteers take the time to pick up, deliver, set up, and distribute vegetables to each community member that attends.
"I can never thank Veggie Wheels volunteers enough for all of their hard work," she continued. Next year we hope to expand to new areas and recruit more volunteers to help with Veggie Wheels."
For 25 years, the Cattaraugus Region Community Foundation has been the area's supportive, responsive and trusted community foundation. Established in 1994, CRCF is growing good by connecting donors to the causes they care about most in the region. Grants from the foundation support many areas, including education, scholarships, health care, the arts, community development, human service, and youth development. To learn more, call (716) 301-CRCF (2723), email [email protected], or visit online at www.cattfoundation.org. CRCF is also on Facebook (facebook.com/cattfoundation) and Twitter (@CattFoundation).