At its 12th annual Friends of the Foundation Luncheon the Cattaraugus Region Community Foundation had the opportunity to celebrate its 25th anniversary while honoring two individuals seminal to the Foundation's growth over its 25-year existence and to the community as a whole, Drs. Ahmad and Naheed Hilal, as well as the 92 students who received scholarships in 2019.
The luncheon gathered nearly 220 donors, supporters and scholarship recipients this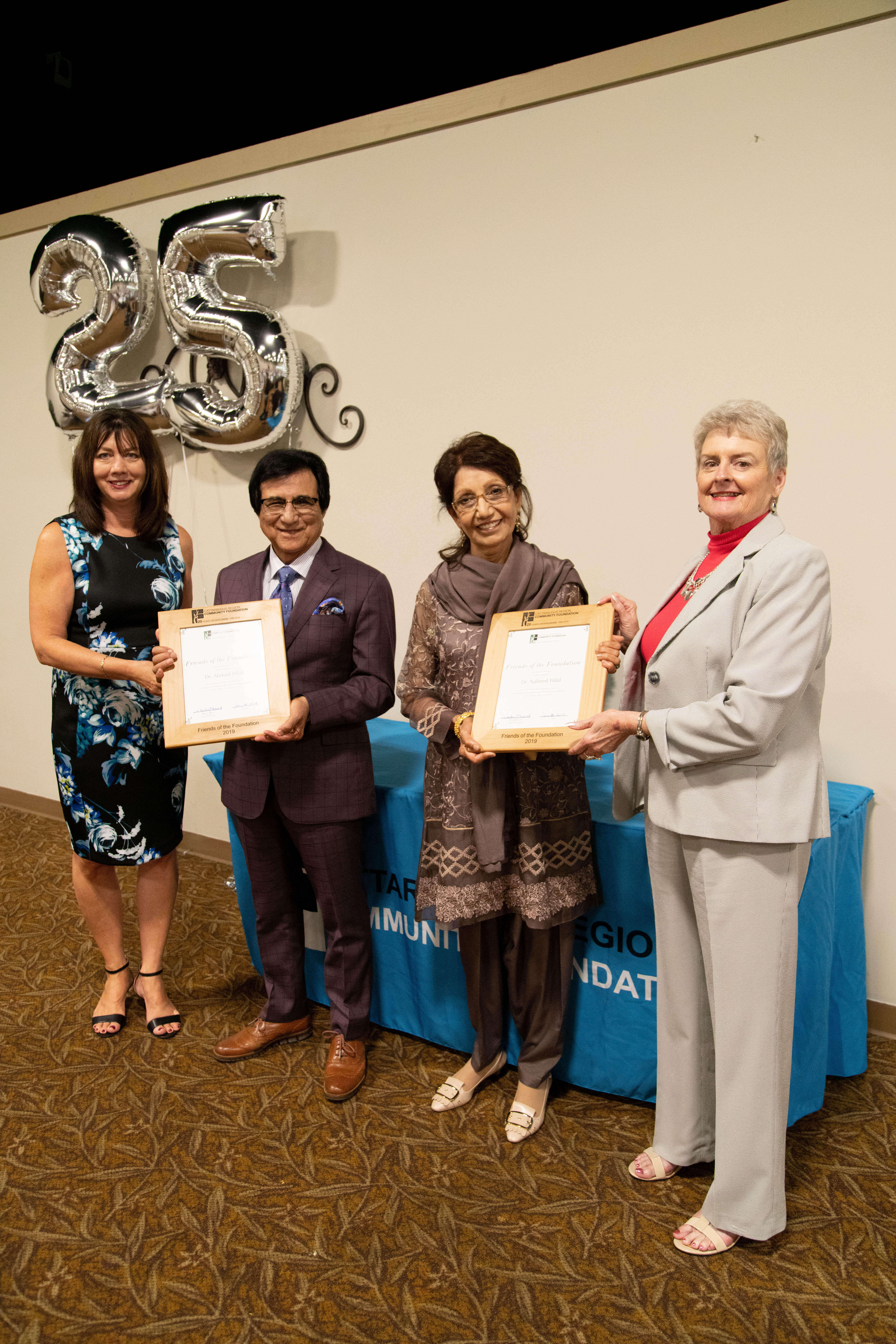 year.
CRCF's Friend of the Foundation award is the organization's most prestigious and honors individuals who have supported the vision and mission of the Foundation through community volunteerism and philanthropy.
Together the Hilals carry an extensive list of accomplishments in healthcare, education, community service and philanthropy including numerous boards and committees in different areas of service and need as well as their long careers in medicine— Dr. Naheed Hilal as an OB/GYN and Dr. Ahmad Hilal as one of the area's most renowned cardiologists.
The Hilals have also been dedicated to education, establishing a number of scholarships both locally and abroad and establishing boys and girls schools in their native Pakistan. Together they also established the Hilal Nursing Recognition program to honor nurses of distinction each year.
"For their dedication in making this community a better, healthier and happier place," Wendy Brand, CRCF board president said, "We are proud to honor Dr. Naheed Hilal and Dr. Ahmad Hilal as the 2019 Friends of the Foundation."
Dr. Anthony Evans, CRCF scholarship committee chair echoed Brand's praise of the Hilals service to the community over the years.
'[The Hilals] have been the heart and soul of our community," Evans said. "You have touched, literally and figuratively, many hearts. And we are so very grateful"
"Our community will greatly miss the Hilals – as this summer they have moved to the greater New York City area to be closer to their four daughters," Brand added. "We will miss their presence, their friendship, and their service on so many boards and committees. But, we are forever grateful for all they have given in their 30 plus years here."
The Foundation also honored and celebrated 15 new funds and this year's 92 scholarship recipients who together received more than $154,000 in financial support to pursue their educational goals. Including students receiving continuing awards, Evans said, area students will receive a sum of nearly $200,000.
Each year a student scholarship recipient is chosen to share remarks with those gathered at the luncheon.
This year's student speaker, Alice Li of Allegany-Limestone Central School, a Burt and John J. Murphy Family Scholarship recipient, shared her thanks for all of the donors who make these scholarships possible.
She also reminded her fellow recipients that their hard work has led them to a new beginning and an opportunity to find or reinvent themselves.
"We've all been tested on staying true to ourselves, sticking with our beliefs, passions, and hobbies. Maybe there was something that you appreciated that others around you made fun of or simply could not see it in the same light that you could," Li remarked. "This image others have of you, is not permanent.
"I hope this inspires all of you to go out and pursue your passions, and have no fear or shame in doing so," she concluded.
In honoring and sending off the scholarship recipients, Dr. Anthony Evans remembered a phrase his grandmother always used in place of "goodbye" and all the permanence the word carries – that phrase is "Bless your heart."
And so the Community Foundation wished to the Hilals, all of its thoughtful donors, and the 2019 scholarship recipients that heartwarming phrase, "Bless your heart."
For 25 years, the Cattaraugus Region Community Foundation has been the area's supportive, responsive and trusted community foundation. Established in 1994, CRCF is growing good by connecting donors to the causes they care about most in the region. Grants from the foundation support many areas, including education, scholarships, health care, the arts, community development, human service, and youth development. To learn more, call (716) 301-CRCF (2723), email [email protected], or visit online at www.cattfoundation.org. CRCF is also on Facebook (facebook.com/cattfoundation) and Twitter (@CattFoundation).