Chris Perks grew up skateboarding in a town that did not have a dedicated skate park.
"We were always looking for places to skate," Perks recalled. "We usually ended up skating in parking lots or in the street; of course that created some friction between us and the local businesses and law enforcement. As often as we could, we would drive out of town - usually to Jamestown, but sometimes as far away as Rochester or Pittsburgh or Ohio - to skate indoor/outdoor parks."
When Chris and his wife, Brenda, heard about an initiative through the Tony Hawk Foundation to support the building of concrete skate parks, they immediately thought about bringing one to Ellicottville.
"The 'Built to Play' matching grant program has the mission of helping communities across the US build outdoor concrete skate parks that are free and open to the public," said Brenda, an advocate for the skate park project in Ellicottville. The Tony Hawk Foundation initiative is partnering with the Ralph C. Wilson Jr. Foundation to fund projects like the skate park across Western New York on a dollar-for-dollar basis up to $250,000.
The goal to construct a skate park in Ellicottville is about more than just skateboarding, added Mrs. Perks.
"The skate park will provide a safe, designated place for skateboarders, rollerbladers,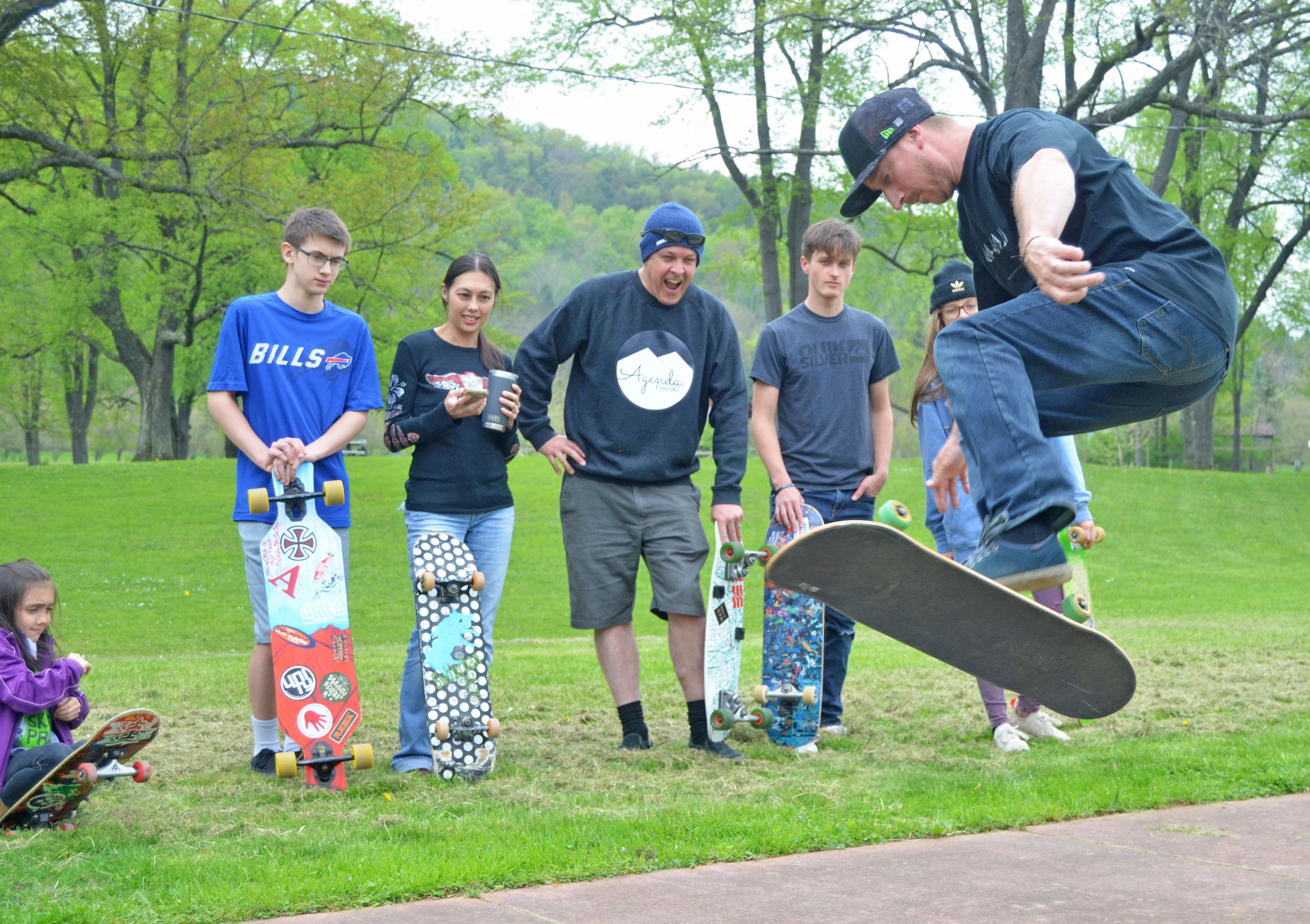 BMXers and scooters. It will encourage kids and adults of all ages to get outside and be active," she said. "Whether you're an experienced skateboarder or you want to learn, the facility will be open to everyone to use, and at no charge."
Once the project application is approved by the Tony Hawk Foundation, the Perks and others spearheading the skate park efforts, hope to raise the full $250,000 for match and break ground on the park within two years.
"Our goal is to raise at least that amount, so that we have a minimum of $500,000 to build the park. According to the Tony Hawk Foundation, the average outdoor concrete skate park costs $50 per square foot," said Mrs. Perks. "Reaching our funding goal will allow us to build a 10,000 square foot park for our community."
The Ellicottville community will have a hand in painting the final vision of that 10,000 square foot park, which is proposed to be built in the Ellicottville Village Park.
"The exciting part about this process is that the community is encouraged to give their input on the design," said Chris "After all, this will be a community park, so we want the design to reflect the desires and interests of our locals that plan to use the park."
With their vision in mind, the group considered the many pieces required to bring the project to fruition and turned to the Cattaraugus Region Community Foundation.
"Our grant writer (Kathy Elser, Chris's aunt) already had an established relationship with the Community Foundation and introduced our project to them," said Mrs. Perks. "With interest from both sides, we were able to sit down with the Foundation and learn about the many different ways they can help out as our fiduciary."
The group's fund at CRCF will allow the public to make tax-deductible contributions in support of the project and will allow for an ongoing source of funding for ongoing maintenance and other necessary costs at the park.
Despite the daunting fundraising ahead, Chris and Brenda and other community members, are excited for the work to come.
"We are excited to work with a world renowned organization such as the Tony Hawk Foundation," said Mrs. Perks. "And with support from the Village of Ellicottville, we are anxious to get the project's fundraising efforts underway.
"It will take the entire community to make this project come to fruition, so we are hoping to get as many community members and businesses as possible to help out in any way they can - whether it be a monetary donation, volunteering with fundraising events, or just helping to spread the word, we'll all do it together."
An open meeting to introduce the project to the community will be held on Thursday, May 23, at 6 p.m. at the Ellicottville Town Center, 28 Parkside Drive in Ellicottville, NY (Cornell Cooperative Extension building). This meeting welcomes all community members and interested parties to learn more about the project, to ask questions, and to get involved.
Donations can be made to Ellicottville Skate Park Fund at CRCF, 301 North Union St., Suite 203, or online at cattfoundation.org.
For 25 years, the Cattaraugus Region Community Foundation has been the area's supportive, responsive and trusted community foundation. Established in 1994, CRCF is growing good by connecting donors to the causes they care about most in the region. Grants from the foundation support many areas, including education, scholarships, health care, the arts, community development, human service, and youth development. To learn more, call (716) 301-CRCF (2723), email [email protected], or visit online at www.cattfoundation.org. CRCF is also on Facebook (facebook.com/cattfoundation) and Twitter (@CattFoundation).