The Cattaraugus County Department of the Aging brought the joy of pets to members of the Linwood Social Adult Day Program at Intandem on "National Puppy Day" in the form of therapy dogs, Maddy and Sunny, and a number of robotic dogs and cats becoming infamous for their own therapeutic benefits.
The special day was part of a new pilot pet program through the Department of Aging.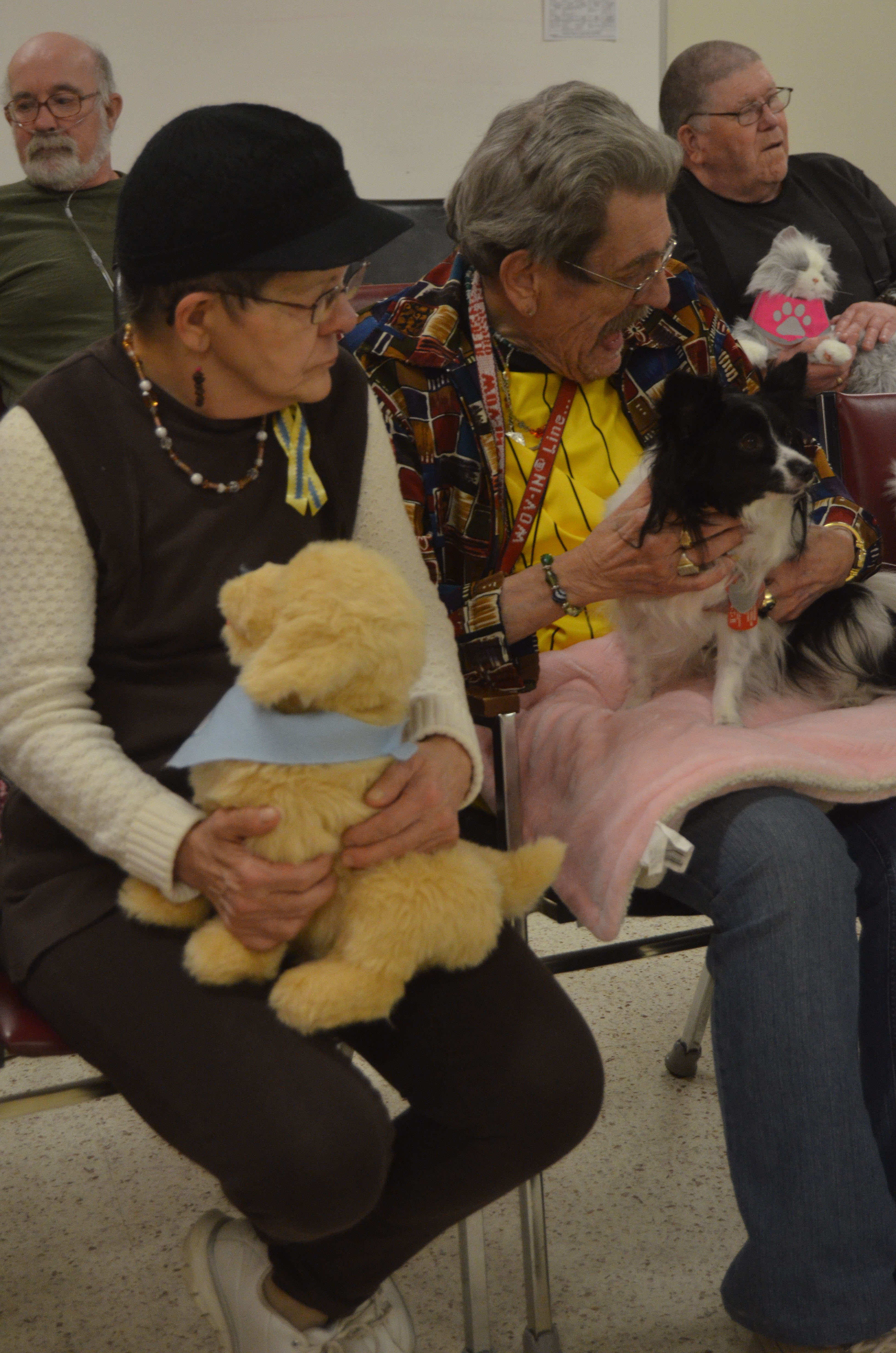 Programs across the country have shown that the robotic pets can help senior citizens with feelings of loneliness and anxiety and can even help those with dementia.
The program began with the department in Cattaraugus County receiving three Hasbro Joy for All puppies and three cats to be assigned to six older adults to see if interaction with the robotic pets would decrease feelings of loneliness in those individuals.
The pets are lifelike and realistic. The cat version uses a special technology to simulate purring, opens and closes its eyes, lifts its paw to lick and simulates other realistic pet movements. The puppy responds to voices with a bark and wags its tail – and even features a heartbeat that can be felt.
According to Cathy Mackay, director of the Cattaraugus County Department of the Aging, and Bonnie Saunders, NY Connects administrator, the program has yielded significant positive results for elderly residents so far.
Caregivers already report that program participants are experiencing measurable improvements in decreased agitation and requests for anxiety and pain medications as well as improved mood and interactions with loved ones.
Saunders said that one such positive experience came with a woman who had suffered a fall that injured her hip. The woman, she said, could hardly sit without yelling in pain and requesting heavy pain medication.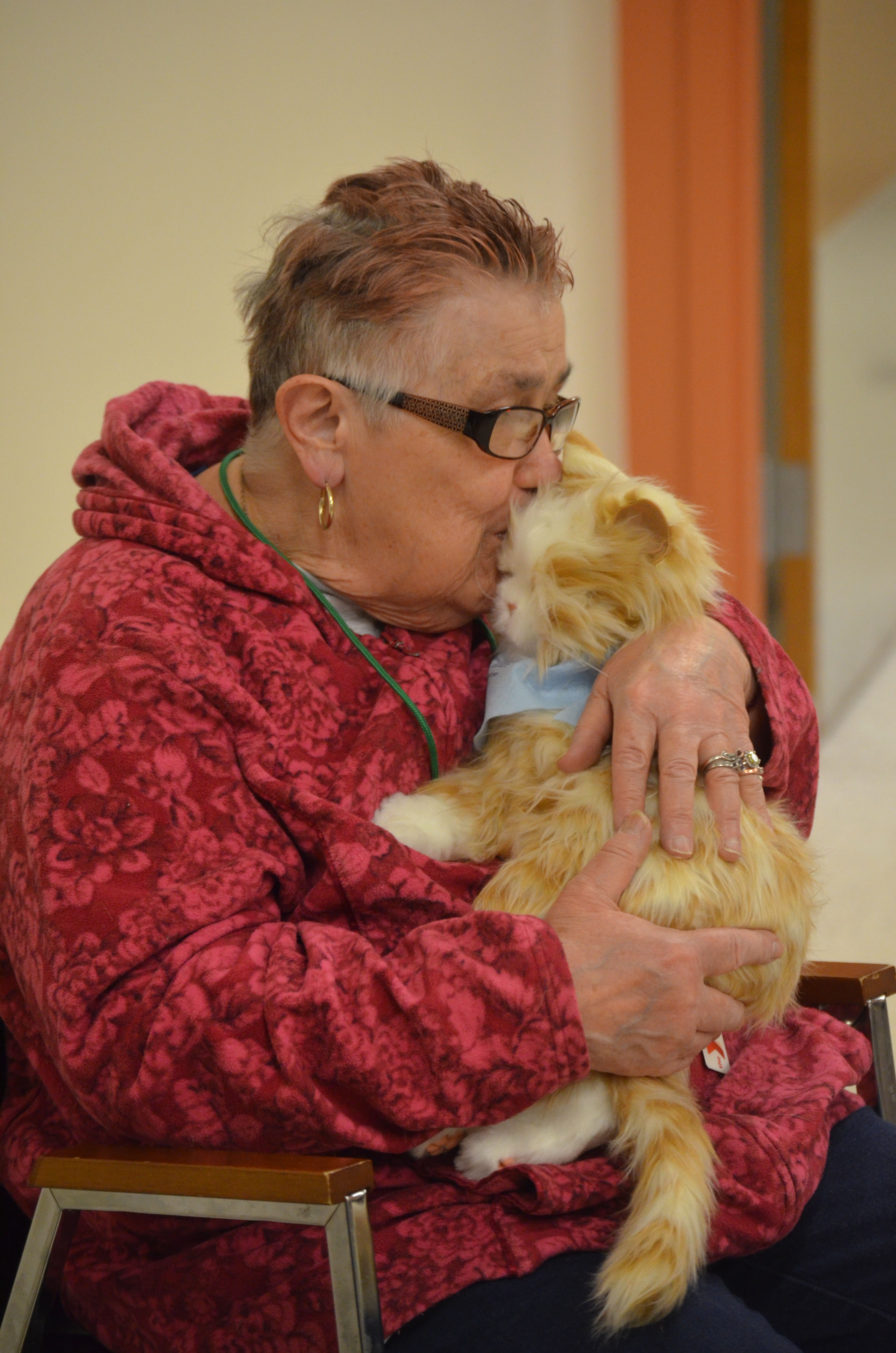 With one of the robotic pets in her lap, however, she was able to sit quietly for nearly two hours.
With those early results, the department made the decision to begin expanding the program, said Mackay.
She decided to use grant funding made possible by the agency's endowment fund at the Cattaraugus Region Community Foundation to purchase an additional 13 pets.
Two of the pets have been assigned to the dementia care unit at the Pines of Machias Skilled Nursing Facility. Two more are set to be kept at the Pines of Olean, and two will be assigned to Total Senior Care PACE/DayBreak in Olean.
The rest of the pets will be assigned to individuals receiving case management through the Department of the Aging.
Judging from the "National Puppy Day" event, the demand for the pets will be high, as the day program visitors fell in love with their furry counterparts – a number of people asking how they could purchase a pet on their own – and so, Mackay said she hopes to continue expanding the pet program to help more of the elderly.
"Ideally, I would love to have funding to provide many additional pets to seniors in our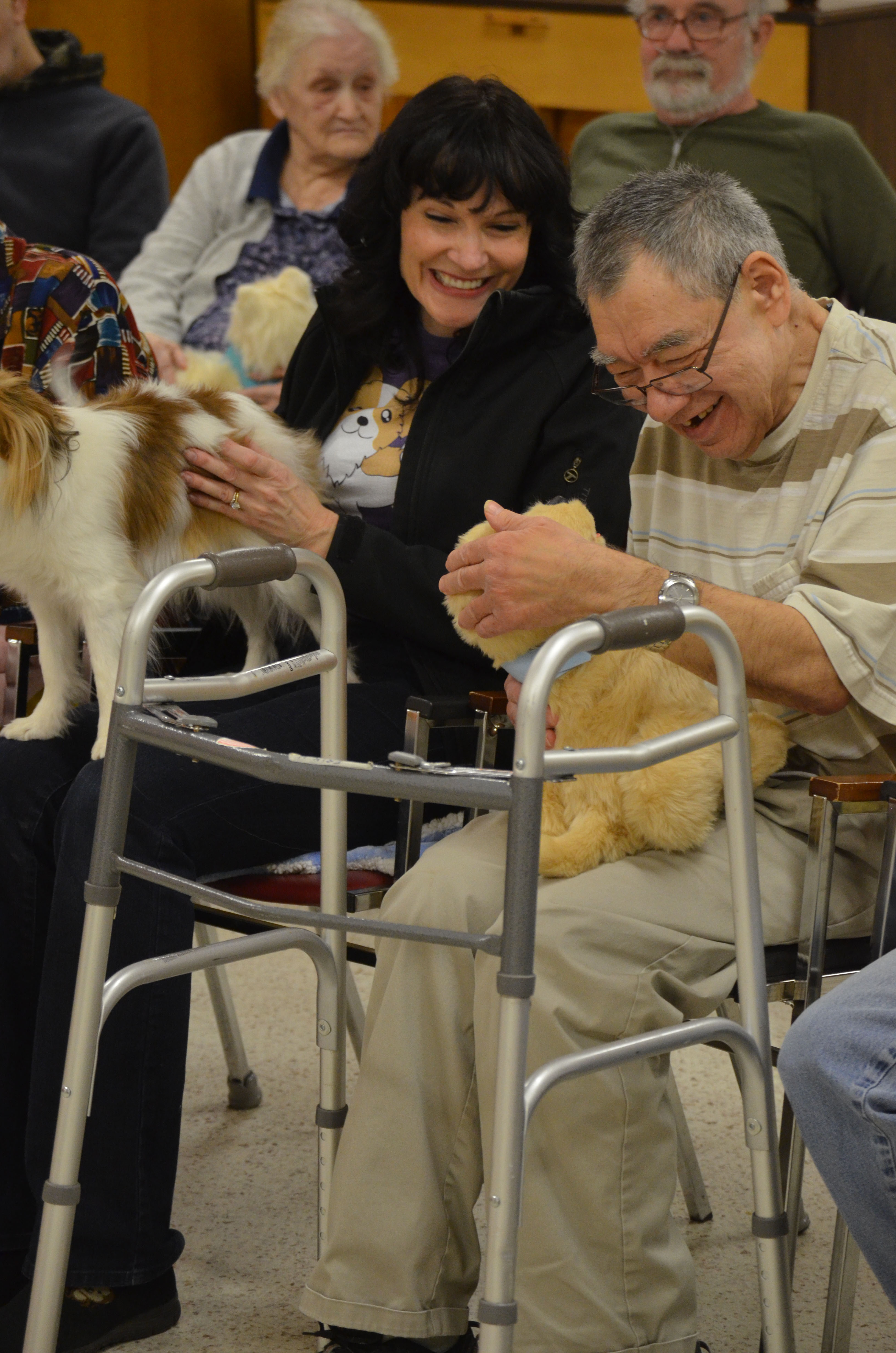 community. It would be great if we could also purchase a set of pets for some of the [Cattaraugus County] Health Department's programs," she said. "We are just seeing so much success with these pets for people of any age."
For more information about the Hasbro pets, please contact the Cattaraugus County Department of the Aging at 716-373-8032.
Donations can be made to help purchase more pets at the Meals on Wheels/Friends of Aging Fund of Cattaraugus County at CRCF, 301 North Union St., Suite 203, or online at cattfoundation.org.
For 25 years, the Cattaraugus Region Community Foundation has been the area's supportive, responsive and trusted community foundation. Established in 1994, CRCF is growing good by connecting donors to the causes they care about most in the region. Grants from the foundation support many areas, including education, scholarships, health care, the arts, community development, human service, and youth development. To learn more, call (716) 301-CRCF (2723), email [email protected], or visit online at www.cattfoundation.org. CRCF is also on Facebook (facebook.com/cattfoundation) and Twitter (@CattFoundation).