Tips for a great scholarship application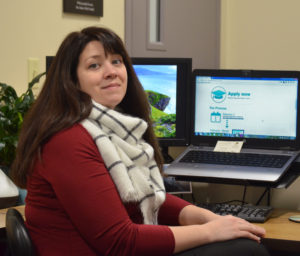 As we kick off scholarship season at CRCF, our scholarship program manager, Ryan Michelle Wilcox, offers some tips for applying. With more than 10 years of experience, she is an expert. Heed her advice, and make sure you have the best application possible! The scholarship portal opens February 1 at cattfoundation.org/scholarships.
Is it really scholarship season again? For us at the Cattaraugus Region Community Foundation, it practically never ends. From January to August each year we manage the process from applications, to review and selection, to payment. And year-round we work to establish new scholarships or expand existing ones.
I've played a key role in the CRCF scholarship process for more than 10 years, and I have seen hundreds of applications and helped steward them through the review process with our scholarship committee members and donors – so today I am happy to share that knowledge by providing some tips for creating the best application you can.
Tips for a great application:
Start early! Through the online application, you will submit requests to your guidance counselor and two references – the sooner you send them your requests, the more likely you will have your application completed by the deadline.
Review the list of scholarships, decide which criteria you meet and apply for the appropriate scholarships. Show how you meet the criteria for those awards in your goal statement and any other scholarship-specific portions of the application.
If any of the awards list financial need as a factor, be sure to include your FAFSA information as requested in the application. Without your Expected Family Contribution (EFC) number, you will not be considered for those awards.
Your application is the picture you paint of yourself and the only way the scholarship reviewers know if you are deserving, so your application needs to reflect your best portrait. Be sure to list your academic, extracurricular and volunteer activities and awards. It isn't considered bragging if you're being honest about your achievements!
Choose your references wisely. Scholarship reviewers rely on your recommendation letters to learn how others perceive you. Ask for recommendations from people who know you well enough to write a letter that helps you stand out.
Proofread your application. Better yet, ask someone else to proof it as well. Spelling and grammar matter, and they reflect the amount of effort you put into your application.
Check your email regularly. If a part of your application is incomplete, for instance if a reference letter hasn't been submitted, CRCF will send you an email notification. As the applicant, it is up to you to make sure all the required pieces for your application make it to the Foundation by the deadline. The scholarship committee does not review incomplete applications and does not consider them for awards.
Submit your application by the deadline. The scholarship committee does not review late applications and does not consider them for awards.
If you have questions, ask your guidance counselor for help or call or email me at the Foundation at 716-301-2723,

[email protected]

.
One last thing – CRCF manages more than 50 scholarship funds, ranging from those with a preferred candidate with a specific major to awards available to students who, while they may not have a high GPA, have shown determination and persistence in school. Some are geared to support students demonstrating financial need, while others are not. With so many different awards, chances are good there's one for you!
Our donors have graciously established scholarships to benefit a student body as diverse as our community. There's always more need though, so if you or someone you know would like to establish a scholarship fund to support more students, please contact us. We're always open to expanding our scholarship season!