Reflections on another successful scholarship season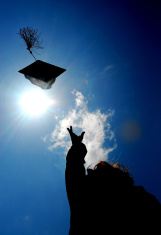 This month, Executive Director Karen Niemic Buchheit looks back on another successful season of supporting our local students through the Foundation's scholarship program. This year 74 students together received 93 awards for a total of nearly $130,000 in financial support to pursue their education. Congratulations again to all of this year's scholarship recipients.
With this year's area high school graduation ceremonies just recently completed, many local students will soon embark on their next journey – college. The rising cost of secondary education presents today's graduates with a financial obstacle that often challenges them as they pursue a college degree. The Cattaraugus Region Community Foundation has worked to make maneuvering this hurdle a bit easier for local students.
The scholarship program through the foundation allows students to receive recognition for their academic achievements, extracurricular and community involvement. In collecting and reviewing each application our scholarship committee is invariably impressed by the level and variety of success local students have achieved. Committee members often remark that they would have a tough time matching up against applicants' academic successes and involvement outside of the classroom!
This year CRCF awarded more than 90 awards to 74 students, an all-time high.
Scholarships were available to students with varied interests and goals – including careers in the medical field, business, welding and other technical genres or traditional academic tracks such as writing and literature. Oftentimes scholarships are established by donors with a particular passion based on their own professions or those of loved ones. However, their overriding aim is to help students succeed on their chosen career path.
The families and friends who establish each scholarship fund find comfort and gratification in helping the talented young people in our community. For many, a scholarship carries on the legacy of a loved one, matching scholarship recipients with similar dreams and aspirations.
We have found that each student has a unique story through which they have been formed and are defined. Each student has different dreams and goals, but they all seem to have one thing in common: They seek to fulfill their life's purpose and leave a legacy.
This year's scholarship recipients again blew us away with their drive and resolve. Many have overcome astonishing challenges to get where they are today. Now we will watch as they go on to prestigious universities and institutions to chase their dreams.
We always enjoy learning how that first year of college went and encourage our scholarship students to keep in touch and share their collegiate progress (stories from some past recipients appear on our website throughout the year at cattfoundation.org) and we will in turn share their stories with our donors, friends and readers of this blog.
There is a sad part for us at the foundation – that is our inability to award a scholarship to every student who applied. There is still a great need for more scholarship aid for many deserving students. Anyone who would like to be part of creating a legacy through scholarships is welcome to contact me or one of the foundation staff at [email protected] or call 716-301-CRCF (2723) to learn how to set up a scholarship fund and be part of creating a better world for the next generation.