Paul and Mary Lou Wood - Giving for the sake of growing and doing good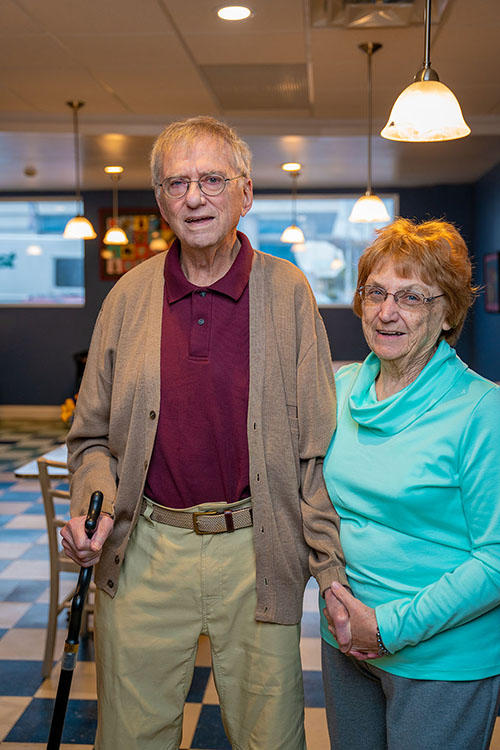 Paul and Mary Lou Wood - Giving for the sake of growing and doing good
Paul and Mary Lou Wood may not have grown up in the Olean/Cattaraugus County area, but they have called the area home for 50 years now.
It is a home that they have come to love and have committed to honoring by giving back and leaving a lasting legacy of giving for the sake of doing and growing good through their three funds at CRCF.
"We came to Olean 50 years ago, and we knew no one," remembered Mary Lou. "Paul worked at Bonas [as a French professor] and eventually I got a job, first subbing at Olean, and then I went to Portville and got a real teaching job." The Woods raised their children in Olean, all of them attending and flourishing at Olean High School.
After their children graduated and left the area to start careers, their IRAs came due, and the Woods decided to look for local causes to support using the charitable rollover from their IRA accounts. In 2013, they established the Paul and Mary Lou Wood Foundation Fund, with the intent to make possible annual grants to the Basilica of St. Mary of the Angels, Olean General Hospital and the Franciscan Center for Social Concern at St. Bonaventure University.
"We thought it made sense using our money that way because so often Olean, which deserves support, doesn't get it," she said. "We were more interested in trying to play a role in maintaining this place."
In 2016, the Woods decided to continue their support of causes near to their heart and established the Paul and Mary Lou Wood Swim Scholarship at CRCF. The fund supports an annual scholarship of $10,000 for a member of the men or women's swim team at St. Bonaventure University.
Since it was established, the fund has provided $50,000 in scholarships to Bonaventure swimmers.
"Our kids swam at Bonas forever – every summer afternoon for two hours," she remembered. "As soon as Bonas closed classes, we swam in the Reilly Center pool every day."
"All of our kids went on to swim in high school, and three of the four children swam in college," she continued. "Why wouldn't we honor that?"