Give back what you take for granted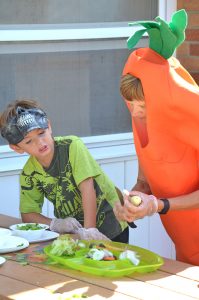 This month, Kirk Windus, CRCF communications and fund development coordinator looks back on community projects helped by the Community Fund and the impact they have.
Between college basketball games a while back, TNT aired a special story about Purdue's Caleb Swanigan. Swanigan, now a national player of the year candidate, weighed 360 pounds as a 13-year old.
When he looked back on that time, he recounted the reason for his weight without hesitation: he was poor. Very poor.
Growing up he ate almost exclusively cheap, processed food that his family could buy in bulk. Quite simply, his family could not afford to eat healthy.
He moved in with a family member who was able to provide healthy meals, and he quickly dropped a hundred pounds, paving his road to athletic

"Carrot Lady" Bev Bennett teaches the kids how to make a healthy salad at a Veggie Mobile stop.
success.
That story particularly resonated with me when I thought about in the context of programs that the Foundation has support with grants in my time working here.
In 2016, a grant from the Foundation's Community Fund supported the Veggie Mobile initiative through the Cattaraugus County Health Department. The initiative helped provide fresh vegetables to families living in Olean Housing Authority-subsidized properties.
Seeing the kids at Alder Court's excitement in having tomatoes and onions made me regret all the times I rolled my eyes at my mom when she told me to finish off the green beans on my plate.
On paper, fresh vegetables seem like a small, insignificant thing. But after seeing the kid's excitement and the families' gratitude, I know otherwise.
The Veggie Mobile will be at work again this summer and will be expanding its services into Salamanca as well.
In November, another CRCF grant was made to Ardent Solutions to support their Child Passenger Safety Seat Program.
I never imagined how great the need for such a program that helps provide safe car seats and proper use-training to needy families could be.

A couple receives a car seat and the appropriate training to safely transport their newborn.
Program experts and volunteers stressed how often they work with families that, in order to overcome a strained budget, purchase and use car seats that had been recalled or do not fit their child appropriately. In fact, national statistics indicate that 75 percent of children are not properly restrained in a motor vehicle.
It seems startling, but look more into car seat costs. They are not cheap, especially not on a fixed income.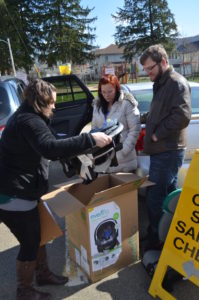 While I was visiting a car-seat distribution event at Cattaraugus County Community Action, a family came to be fitted for a new car seat. They had just had a newborn whom they would be taking home in the next day or so.
While the last thing on your mind at such a time may be statistics, proper child restraints reduce mortalities in traffic incidents by 71 percent for infants.
The program made that newborn's life safer that day.
I am not saying that I think we are helping make the next Caleb Swanigan here. But I am saying that the "small" things matter. Access to them makes a difference. Those things so many of us take for granted are things that others need.
Donating or volunteering, though it may seem insignificant, may just mean a newborn making it home safe or, for the one of the first times in its life, a child getting a healthy meal.
I hope that you will play a part in making that difference. One way to do so is by donating to the Community Fund, which you can do by following this link: Donate to the Community Fund.