Create ripples of good during Cattaraugus Gives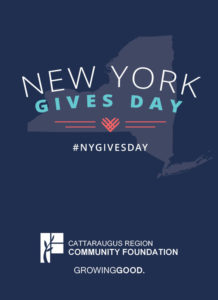 In this special blog CRCF Executive Director Karen Niemic Buchheit talks about Cattaraugus Gives on November 28. In just eight days the community can give back to nearly 40 nonprofits in Cattaraugus County at nygivesday.org.
Mother Theresa once said, "I alone cannot change the world, but I can cast a stone across the waters to create many ripples."
On Giving Tuesday, November 28, we hope that many will choose to cast their stones and together create a wave of good in our community by participating in and supporting Cattaraugus Gives, the first-ever day of giving in Cattaraugus County.
Cattaraugus Gives will be a 24-hour celebration of giving and the nonprofits dedicated to making a difference in the community, led by the Cattaraugus Region Community Foundation.
40 nonprofits involved in the arts, healthcare, animal welfare, youth development, education and economic development and many more causes have decided to come together in friendly fundraising competition to together make an impact in Cattaraugus County.
Giving Days have popped up all over the country and have raised thousands, tens of thousands and even millions of dollars for nonprofit organizations.
Just imagine the potential impact of raising $1 million for nonprofits in Cattaraugus County.
Of course, we do not expect to raise $1 million in our first attempt (though, anything can happen!), any funds raised will make a difference. That is why we are offering up to $5,000 in monetary incentives for participating nonprofits.
The true spirit of Cattaraugus Gives is one of unity. It acknowledges that all of our county nonprofits have the same underlying goal: to make Cattaraugus County a better place.
Cattaraugus gives provides each of us the opportunity to play our part in that goal. A gift to any participating nonprofit, no matter how small, can create ripples.
Creating your ripple is as simple as visiting nygivesday.org on Giving Tuesday and making a gift to the organization or organizations of your choice. Together, we have the ability to create a lasting impact on our community come November 28.
For more information on participating organizations and the monetary incentives being offered by the Foundation, visit cattfoundation.org/GivingDay.