Celebrate our nonprofits during Cattaraugus Gives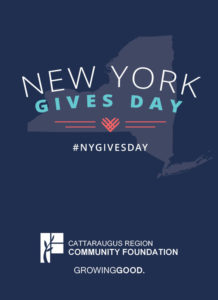 Communications and Fund Development Coordinator Kirk Windus discusses the upcoming Cattaraugus Gives program, which will be held this year on November 28. Windus and the rest of the CRCF staff have worked to encourage and advise other nonprofits in Cattaraugus County in participating in the 24-hour fundraising challenge.
On November 28 you will have the opportunity to support 35 nonprofit organizations in Cattaraugus County dedicated to making our community a stronger, healthier, more vibrant home.
That is 35 organizations, engaged in causes from healthcare to education to animal welfare, who I can tell you care deeply about their missions and strive with all they have to achieve those missions.
When the opportunity arose to hold Cattaraugus Gives, the first giving day in Cattaraugus County, we at the Foundation approached the opportunity with an abundance of excitement but few expectations.
After countless hours of emails and phone calls to nonprofit leaders and staff members I found myself overwhelmed — overwhelmed not by the looming workload, but by the spirit and dedication of the nonprofits that serve this county.
Despite staff and time limitations, the question was never "How are we going to be able to do this?" but "How do we get started?"
For 24 hours on November 28, you will have the opportunity to help these organizations achieve their selfless missions, each of which helps to make the Cattaraugus Region a better place.
At the Foundation we have the privilege of working with these dedicated nonprofits all throughout the year, but we decided to celebrate their work by offering up to $5,000 in monetary incentives to organizations participating in Cattaraugus Gives on November 28. Together we are working to celebrate the spirit of giving and the work of our nonprofits. We just need your support.
A gift to your favorite local nonprofit may help them win monetary incentives. Remember that many of the organizations have little staff — many are all volunteer — and are often so dedicated to their work that fundraising is a difficult task. Even if you have never given to a participating organization, know that your gift on that day will have a significant impact.
I invite you to join me and the rest of the Foundation staff on November 28, by donating, volunteering or spreading the word about the organizations working so hard to provide services to those in need in our county.
Visit nygivesday.org on November 28 and support any or, if you wish, a number of the nonprofits participating in Cattaraugus Gives. By working together we can truly Grow Good here in Cattaraugus County. When Cattaraugus Gives we all can grow stronger together.
To preview the participating organizations, visit nygivesday.org and select the search organizations tab. Then search by location using "Cattaraugus."
If your organization would like to participate, sign up before November 15 at nygivesday.org and email Kirk Windus to be eligible for local monetary incentives.