A Life of Seed Planting - Erick Laine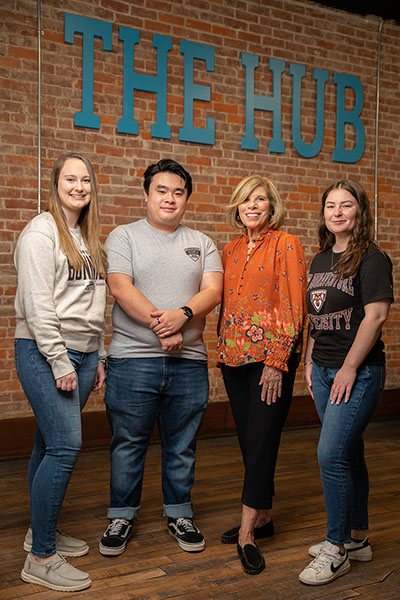 Once Erick Laine found himself in Olean, he dedicated much of his life to planting seeds for a brighter future for the Greater Olean area, in business, education, philanthropy and more.
Until his passing on December 1, 2020, growing a stronger, more vital Olean was at the heart of nearly everything he did.
The seeds Erick planted have blossomed even in his passing through a number of bequests he made to area organizations, including one to the Cattaraugus Region Community Foundation. That bequest provided the seed money for the Erick Laine Lift Up Endowment Fund – so named because in his lifetime Erick was constantly finding ways to lift others up in a myriad of ways including education, job opportunities and healthy living.
Now the Erick Laine Lift Up Endowment Fund will continue the kindness and generosity for which Erick was known by impacting two of the most important areas valued by the Laines: education and business.
Laine's family fled from the Soviet Republic, and he arrived on American soil at four years old after his family rowed across Canadian waters to Wisconsin.
Despite knowing almost no English when he began his education, Laine would go on to graduate from the University of Wisconsin before beginning a nearly 25-year career with ALCOA.
When Erick was sent by ALCOA to Olean to assess its subsidiary ALCAS Corporation, a manufacturer of knives and cookware, Erick saw the potential and vision for a thriving business.
He worked to leverage a buyout of the subsidiary from ALCOA, and that company would eventually become Cutco Corporation. Laine would serve as the president, CEO and chairman of ALCAS and later Cutco, until he retired in 2008.
"What Erick found [at ALCAS and in Olean] was a business, employees, a community and Marianne [Letro]. He found himself in a love affair with Olean. He did fulfill his charge and turn the business around," said James Stitt Sr., Erick's business partner of many years and Cutco Corp. executive chairman. "The rest is history. Erick gave back to the employees, the community, and our customers. The business is thriving today because of Erick's vision."
In the early days of ALCAS management, Laine met Marianne Letro, a graduate of Archbishop Walsh Academy and St. Bonaventure University. They married in 1979.
The two shared a love for Olean and its community, and that love fostered a true commitment to giving back. Erick served on several community boards and was particularly committed to higher education, lending his support to Jamestown Community College, St. Bonaventure University and Alfred University.
Erick and Marianne gave generously to Erick's chosen hometown. For example, the two suggested gifts of over $160,000 to the city of Olean between 2017 and 2018 to make possible the restoration of the steps at Oak Hill Park in the center of the city to their historic appearance. At the heart, though, of their giving back, was always the mission to inspire and "lift up" those who need a hand.
Scholarship grants from this fund will focus on giving people access to education or training that they might not otherwise have – whether it be for 2- or 4-year education, trade school or job training, whether applicants be current high school students or nontraditional students – the overall intention being to lift people up, regardless of their financial means.
The fund will also make grants to foster a vibrant business community and entrepreneurial spirit in the community. Grants from this fund will be made to nonprofit business development organizations such as the Olean Business Development Corporation to help existing businesses to change or expand and/or to help entrepreneurs launch or bolster new businesses.
The first grant made from the Laine Lift Up Endowment provided $15,000 to support renovations to the space now known as "The Hub" for the St. Bonaventure University innovation center. The Hub will provide a space for programming that supports area business and nonprofits as well as aspiring leaders in business studying at St. Bonaventure University.
"Through the HUB and St. Bonaventure's innovation center, I have learned many life skills within the business world," said St. Bonaventure University student McKenzie Bush. "Having hands-on opportunities with entrepreneurship and networking has helped many people in the community to succeed. Being given the opportunity to see these programs come alive has been amazing in every aspect".
In the future, the fund will also provide support for similar projects at Jamestown Community College to inspire and lift up students to pursue their dream while fostering the next generation of leaders in business and the community.
"It is an honor for Jamestown Community College to further the legacy of Erick Laine through our partnership with CRCF and the Olean Business Development Corporation," said Paula Snyder, executive director of the Cattaraugus County JCC campus of the opportunity to utilize funding from the Laine Lift Up Fund. "His vision for our community lives on as we work together to change lives through his spirit of generosity and that of his family."
"Erick lived in Olean for most of his life and considered it his hometown," said Marianne of Erick's dedication to the area. "He wanted to see it flourish. He thought the way was through leadership and philanthropy. He accomplished both."
Thanks to Laine's foresight and planning, the bequest made to CRCF will help lend a hand to those in need for many years to come and will continue to lift up those in need in the same way that Erick so often picked others up during his life.