COVID-19 Resource Page
Volunteers
Many agencies have stated a need for additional volunteers. CRCF has agreed to post calls for volunteers on its social media channels. Information about volunteers needs should be sent to the foundation at [email protected]. Please include a short description of the volunteer duties and contact information for the volunteer.
Canticle Farm Market volunteers
Canticle Farm has a need for volunteers at the Canticle Farm Market on 3809 Old State Road in Allegany every Tuesday, open noon to 6 p.m. Canticle needs volunteers to be shoppers for drive-up service and to fill pre-orders. Only five people are allowed to enter into the market at a time, and they must use gloves and masks and follow all recommended COVID-19 precautions, including spritzing sanitizer on the hands of customers who wish to shop in person. If you have a few hours and want to lend a hand, please call 373-0200 x3358 or email Sr. Melissa Scholl at [email protected] with Volunteer included in the subject line. Any amount of time is appreciated!
YMCA Shepherding program for Cattaraugus County
You will be given 10 people (your flock) to call and check-in on at least once a week throughout this isolation period. It's simply caring about our neighbors. The YMCA will provide a brief training, give you conversation starters, and you will have access to share community resources using the website.
Watch a video about the Y's Shepherding program
Helpful links for nonprofits
11:15 a.m. - 12 p.m.
All nonprofits across New York State are welcome to join the Town Hall. We'll have the opportunity to hear from our Senators about the CARES Act and plans for future Congressional action, and discuss specific issues and needs of New York's nonprofits.
Tuesday, April 28, 2 p.m.
Nonprofit expert Dustin Johnson will explain how to take advantage of the Payroll Protection Program funds that Congress just approved. You will also learn about the additional benefits of the CARES Act for nonprofits.
April 23, 2:30-3:30
Presented by NYN media. Are you worried about managing the impact of COVID-19 on your organization? Learn more about how to responsibly manage the situation from other nonprofit leaders.
Faith-based organizations ARE eligible to apply SBA relief loans. Learn more with the link above on how your organization could qualify.
Complete the form linked above for assistance. A representative from NYCON will contact you within 24 hours.
COVID-19 resources for nonprofits are now aviailable for free to members and non-members.
NYCON (NEW YORK COUNCIL ON NONPROFITS) WEBINAR ON THE CARES ACT AND WHAT IT MEANS FOR NONPROFITS.
David Thompson, Vice President of Public Policy at the National Council of Nonprofits, will be a featured speaker during the webinar. Find the video on the NYCON website, or contact NYCON to obtain a copy.
Friday, April 3, 2020, 1-2 p.m.
with Courtney Curatolo, Small Business Development Center at JCC
Monday April 6 at 4:30pm
*Limited spaces are available for the live webinar; each participants needs to register through this form. A follow up email with the link and call in numbers will be provided. A recording of the webinar will also be made available on www.chautauquagrants.org/covid-19-nonprofit-resources.
What should your nonprofit do right now? - Article
This article provides resources and ideas of actions your nonprofit could take today to ensure longevity during the COVID-19 Outbreak.
Keep in touch with your team and maxmize remote productivity with Slack for free during COVID-19 outbreak.
Other COVID-19 Resources and opportunities to help
YMCA EMERGENCY CHILDCARE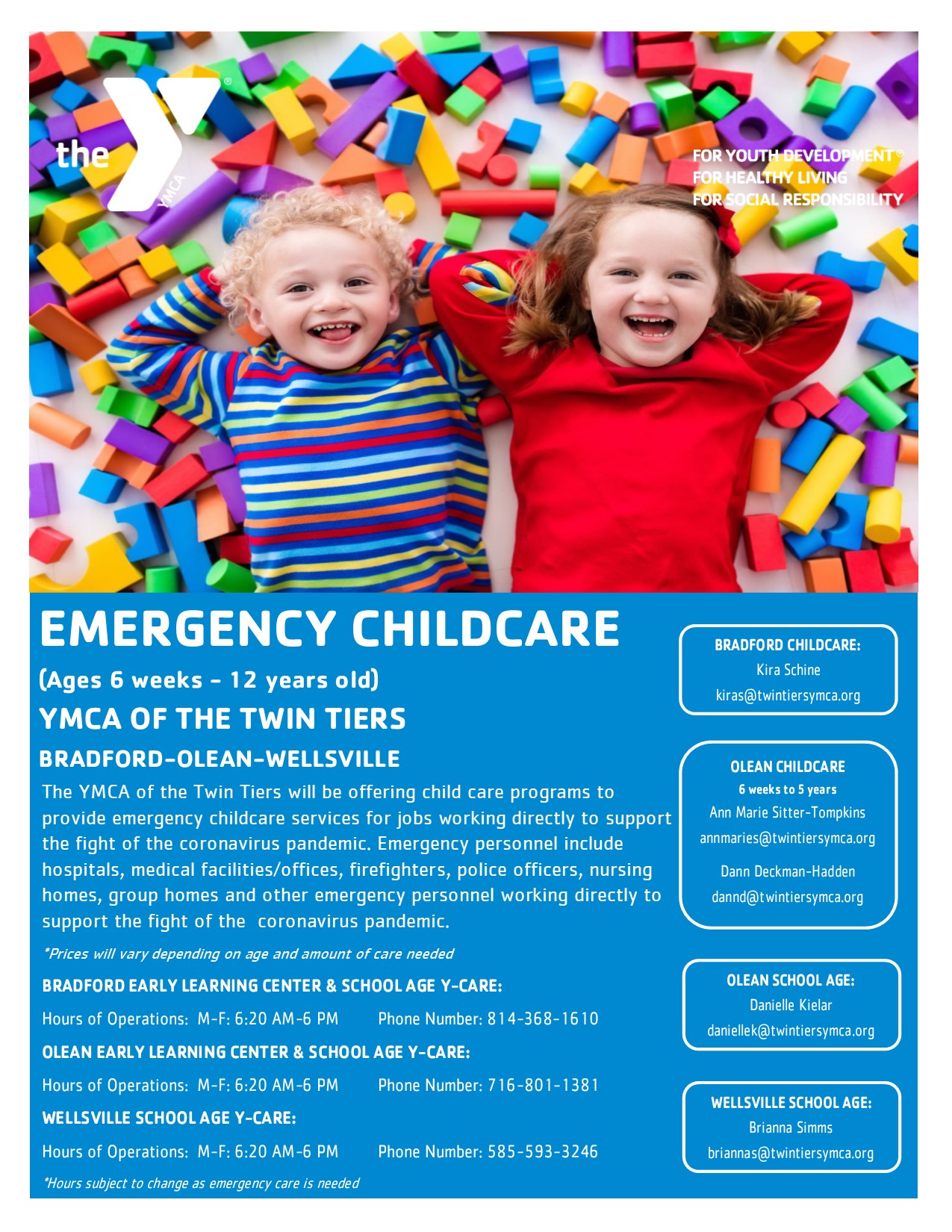 Support the Y's Emergency Childcare program
Information from Cattaraugus County
CDC Guidelines for Protection